Jared Bayless – Lead Vocals, Guitar, Keys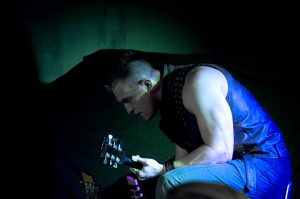 Jared's been singing/songwriting/playing since 2001. He didn't play an instrument, write songs, or even sing in church until he was 19. One day he decided to sell his brand new Playstation 2, go down to the pawn shop, buy a used guitar, and proceed to teach himself off the internet how to play. That fall he attended Nebraska Christian College and met much better musicians than himself who were willing to take him under his wing and teach him how to get better as a musician and a God-fearing man. In a simple quiet, personal prayer in the night, during a dorm devotion he told God if he continued in music that he would only play for Him and no one or nothing else. From there God heard that simple prayer and has honored it, allowing Jared's music to reach other people's lives through its message. Jared continues to have an immense desire to reach people through a message that speaks truth and honors God in the same breath.

Vanessa Bayless – Lead Vocals, Keys

Vanessa was raised in a family that loved music. She and her brother, Michael Figueroa, produced and recorded several songs when she was in her late teens. Feeling called to the medical field, she stopped working on music to become a nurse in her early twenties. Several years later, she met Jared, and her love for music was once again realized. On their wedding day, Vanessa walked down the aisle to the song "You Still Remain," a praise song she and Jared recorded together. Vanessa still enjoys helping those in need and she and Jared also enjoy working on music together; their mission is to reach the hurting and the lost, and to spread the hope they have in Jesus Christ.

Other interests include: running, gardening, road trips, rocking out with the band, anything with coffee in it, browsing for cute puppies that Jared wont let her adopt, and making people laugh. Her involvement with Ghana Christian Mission and Fellowship of Associates of Medical Evangelism (FAME) has led to several overseas medical mission trips and is something Vanessa continues to this day.

Rod Nance – Keys, Synth

Starting at an early age, Rod took lessons and around high school age started working with local groups and eventually worked into a group opening up for lots of different groups through out his travels. Eventually he ended up needing more from his music and found that possible with bringing Christ into the mix. "it is such an honor to give back to people and be able to use my talents that I happen to have been given." The emotion and energy that comes from the people you are playing for is what makes it all worth while.



.
.
Christian Lee – Drums
Christian is the newest member to "Bayless". He is a very talented drummer who brings intensity and diversity to the music. We are excited for this new chapter with Christian!



Christian first picked up a drum when he was 12 years old. After a few years in the marching band, he began playing with the worship group at his church. It was at this time that he really turned his life over to God. He's played with the worship band for a few years as well as a couple local rock bands before joining up with Bayless.